Block by Noimi, the Founder of Be Free Yoga 
Visit to AFESIP Cambodia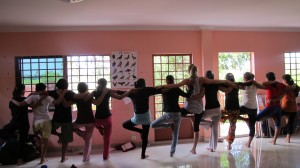 What an amazing, humbling, awe inspiring, eye opening and emotional journey.
During my recent trip to Cambodia, I visited AFESIP's shelters for trafficking survivors in Phnom Penh and Siem Reap and saw with my own eyes the amazing work they are doing and the positive impact their program has had on the women who reside there.
My intention with BE FREE YOGA was not just about raising awareness and funds to help support organisations like AFESIP, I had also always planned to somehow make yoga available to sex trafficking survivors at shelters like this all around the world as part of their rehabilitation and healing.
Those of us who practice yoga, understand the mind body connection and how trauma is held in the body. Yoga is a way back to the self, a way to reconnect, to heal, to let go deeply, to find our rhythm, to become whole, unified, to reclaim our body, cultivate present moment awareness and find our peace.
While talk therapy is useful in working through trauma, it is not enough. It deals with the mind only. I am determined to make yoga accessible for trafficking survivors all over the world, because I truly believe that no matter what people have been through, they have the capacity to heal themselves if they are open and willing and have the tools.
I had planned to teach yoga to the girls at each shelter during my stay, as well as spend time with the Psychologists that support them, sharing my knowledge of trauma sensitive yoga so that they could start to integrate some yoga therapy into their sessions with the girls.
The yoga classes went really well and I felt that the girls loved it. I certainly loved teaching them.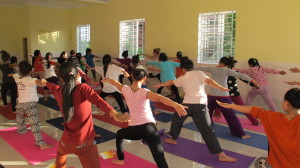 It takes a lot of courage to try yoga, to be in your body, to turn your attention inward and be with whatever is when you've been through what they have been through. They were brave, open, receptive and very giggly. Not what I had imagined. They touched my heart deeply and I feel so grateful to have been given the opportunity to share yoga with them. We may not speak the same language or share the same experiences, but there is something about practicing together, moving and breathing in synchronicity that makes you feel deeply connected with one another.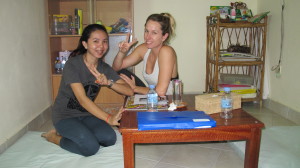 I also enjoyed spending time with the Psychologists at each centre and was pretty pumped to learn that Vechheka, the Psychologist working at AFESIP's Siem Reap centre had incorporated yoga therapy into her program. She sent me some photos of the girls reading their yoga books, meditating and practicing yoga in their new building on their new JADE yoga mats (that were kindly donated by EMP Industrials) and it moved me to tears. I'm not sure how big an impact my visit would have had on the girls at these shelters, but all I can do is plant a seed and hope that something will grow from this. Vechheka is super keen to do her yoga teacher training, so BE FREE YOGA will sponsor her to do it next year. That way the girls will have a qualified yoga teacher at the shelter there to guide them and hopefully inspire some of them to also become yoga teachers.
As is the nature of life, with the highs come the lows, and while I enjoyed spending time with the girls and the staff, observing all the good they had achieved, I also learnt just how dire AFESIP's future is due to the negative influence of the media over the last few months. So here I was, finally teaching yoga to the girls at AFESIP's Tom Dy centre in Phnom Penh, only to discover afterward that they were actually having to close their doors before the end of the year due to lack of funding. One girl was even turned away while I was teaching a class. I felt pretty upset to say the least. It became clear that yoga wasn't a high priority on AFESIP's list right now and what they really needed was more financial support.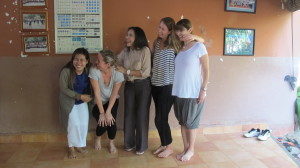 Without going into too much detail about the controversy surrounding AFESIP's, founder, Somaly Mam, in a nut shell,  Newsweek recently made it their mission to take Somaly Mam down by discrediting her story as a sex trafficking survivor. 'Somaly Mam: Holy Saint (and sinner) of sex trafficking' made for a great headline, but Somaly is neither saint or sinner, she is simply human, and a beautiful one at that, who has helped thousands of women and children in Cambodia escape a life of sex slavery. Regardless of what the words in her book say, it's her actions that speak to my heart.
Besides, the question shouldn't be "is Somaly Mam a sinner or a saint?" It should be, "has Somaly's organisation had a positive or a negative impact on the plight of marginalized women in Cambodia?" I'm not an expert, nor do I have all the facts, but I do trust my instinct, and based on my own experience teaching yoga to the girls and working with the staff at AFESIP, I feel strongly that the impact that AFESIP has had is a positive one.
There are many different perceptions, but only one reality. Often we are strongly influenced by things outside of ourselves and our perceptions become so distorted by what we see in the media and hear from other people, that we lose touch with what is real. The young women and girls who have been rescued from sex slavery and given shelter, love, food, rehabilitation, as well as job training skills by AFESIP, are real. But sadly now they face an uncertain future because of a few journalists' very narrow perception based around Somaly Mam and her 'story'.
Many individuals and organisations, most notably the Somaly Mam Foundation have dumped AFESIP as a beneficiary in light of these recent media claims against Somaly Mam, so as a result, the girls at these shelters are the ones who will suffer deeply.
I hope people will be willing to open their mind, take a step back and see clearly the bigger picture and continue to support the great work AFESIP is doing. It is such an incredible organization that has done so much to help exploited women in Cambodia and shed light on the global sex trafficking trade.
Buddha himself said "Believe nothing, no matter where you read it, or who said it, no matter if I have said it, unless it agrees with your own reason and your own common sense."
BE FREE YOGA still stands behind AFESIP and will continue to raise funds to support them through our 'Practice for Freedom' movement. For more information about AFESIP or to make a donation, please visit www.afesip.org